Carlos and Gloria Wille Bell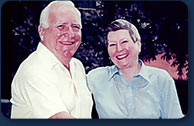 Carlos Bell (BSE '44) was one of six students in his senior year at an American high school in Rio de Janeiro. When he enrolled the following year as an engineering student at the University of Michigan, he was faced with adapting to life in America and being, for the first time, a "small fish in large bowl." In 1996, at the age of 73, Carlos had not forgotten his experiences as a young student; his college days had coincided with some of the darkest days of World War II. Feeling a great deal of compassion for the situations faced by young students-challenges appearing much greater to him than the ones he faced in 1940-Carlos and Gloria, his wife, decided to leave their entire estate to the University of Michigan, mostly to fund scholarships for undergraduate students in technical fields.
Mr. Bell had a deep appreciation for what Michigan enabled him to do and recalled fondly the guidance and support he received from Mechanical Engineering Professor Walter E. Lay. Carlos hoped the tuition support provided through the Bell Scholarship would work in a similar way to forward the careers of many other engineering, math and science students and that through this gift, other bright minds might study engineering at Michigan. Carlos believed in giving back to his community and would be gratified by the thought that recipients of the Bell scholarship would do the same by carrying on the tradition of providing scholarship support for talented students.
Carlos and Gloria Bell were residents of Williamsburg, Virginia. They met aboard a ship en route to Brazil in 1951 and were married soon thereafter. Mr. Bell managed a Chevrolet-Buick auto dealership in Virginia with his father, who had worked for General Motors, as had Carlos, following his graduation from Michigan. In their later years, Carlos and Gloria traveled extensively, often to attend cooking classes in pursuit of their shared culinary interests.